Meet Dr. Irwin Smigel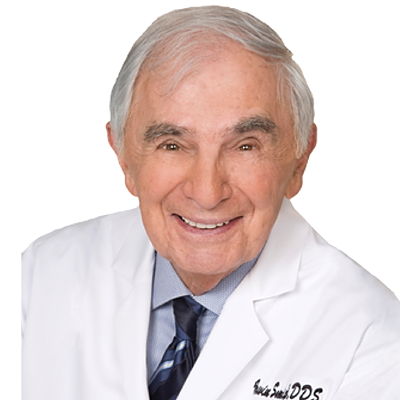 "The eyes may be the window to the soul, but the smile is the first thing people notice." Irwin Smigel, DDS
World renowned as the "Father of Aesthetic Dentistry", Dr. Irwin Smigel created the "tooth bonding" technique in 1970 as the forefront of cosmetic dentistry. This was the first time a dentist used the bonding technique to fix imperfections, chips and gaps in teeth, painlessly. He then established and contributed to the cosmetic field through veneers, laminates, teeth whitening and enhancing patients' facial structure through dentistry.
Dr. Smigel's acclaimed book "Dental Health/Dental Beauty" prompted an appearance on the then hit ABC TV show "That's Incredible." On this history-making appearance, Dr. Smigel performed the first nationally-televised bonding demonstration in front of 50 million viewers. This single airing changed the face of dentistry forever, giving birth to the concept of aesthetic/cosmetic dentistry.
His visionary work continues to touch people worldwide and profoundly changed the way people look at dentists.  "Dentists can be artists, not just repairmen," he said. Throughout his long, illustrious career, he focused on the overall health, well-being and happiness of his countless patients and not only created dazzling, healthy smiles with minimal pain, but actually transformed many lives by creating a smile to be proud of together with a healthy mouth.
Supersmile was invented by Dr. Smigel for patients of his prestigious dental practice who wanted to keep their newly bonded, veneered or natural teeth white and bright. His special toothpaste quickly gained a devoted following and he then expanded the line to include complete oral-care products. These whitening, breath-freshening, cavity-fighting formulations were designed to deliver comprehensive, safe, effective oral care at home to whiten teeth and prolong their health and beauty between dental visits.
Dr. Smigel was President (for 40 years) of the American Society for Dental Aesthetics which he founded in 1976, he established aesthetic dental societies in eight countries:France, Italy, Japan, Korea, Turkey, India, Brazil and Israel. He was a diplomat of the American Board of Aesthetic Dentistry, and the creator and international spokesperson for supersmile®. 
Dr. Smigel has appeared as a guest on a wide range of national television and radio programs including The Today Show, Good Morning America, Regis & Kathy Lee, NBC News, ABC News, Fox News, CBS News, CNN and other major talk shows 
and was been profiled by the New York Times, New York Magazine, Vogue, Bazaar, Cosmopolitan, Elle, Allure, In Style, and most major world-wide publications.
Dr. Smigel was honored with the Outstanding Contribution to Aesthetic Dentistry Award from the American Academy of Cosmetic Dentistry. He authored more than 110 articles on aesthetics in dental journals.
In 2000, The Smigel Prize, designed by Calvin Klein, (a patient of Dr. Smigel's) was established by New York University of Dentistry in honor of Dr. Smigel. The Smigel Prize is designed to honor a dentist who's made consistent contributions to the areas of dental aesthetics and continuing education, demonstrating excellence, talent, vision, and commitment. At the same time, The Smigel Fund was established at NYU to provide aesthetic dental care for young people pursuing careers in the performing arts who might otherwise be unable to afford such treatments.
In 2009, the National Museum of Dentistry, an affiliate of the Smithsonian, unveiled "The Smile Experience," a permanent historical exhibition honoring Dr. Irwin Smigel as "The Father of Aesthetic Dentistry."
Dr. Smigel maintained a very successful cosmetic dentistry practice on Madison Avenue in New York City, treating an array of some of the most recognized smiles in the world.